A Magical Experience Powered by Science
Discover the world famous magnetic STEM toy with a mesmerizing anti-gravity effect!  Desk toy, skill toy, fidget toy—built to last forever. Worldwide shipping.
One of the nicest and most interesting desk toys I think I've ever come across.

Tim Rowett aka Tim The Toyman
The fun you can do with Feel Flux is limited only by your imagination.

Gizmodo
Watching this defiance of the laws of nature is undeniably mesmeric.

The Economist 1843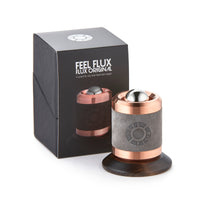 Be Amazed by the Flux Original
Imagine a device that can truly surprise people around you.  Show your friends the unusual anti-gravity effect Flux Original provides and they won't believe their eyes, guaranteed. Drop the heavy metal ball into the copper tube and see it defying gravity as the ball descends slowly inside. There are no batteries, no electronics, just a solid piece of metal and a super strong magnet ball—the simplicity of it makes it even more magical. The slow motion of the ball makes for an oddly satisfying experience that people find very relaxing. You can keep this addictive gadget on your desk or take it with you: Flux Original will be your favorite all-in-one conversation starter, stress reliever and fidget toy.
Buy Now
Trick Gravity with the Skill Set
The Skill Set is designed to get the most fun out of the unique anti-gravity effect. It enables you to perform all kinds of skill tricks by keeping the magnet ball in the air, relying on the special magnetic force alone. Enjoy the unparalleled smoothness of the magnetic interaction or challenge yourself with the wildest skill tricks—the Skill Set will deliver endless fun. Master your hand-eye coordination and pull off unbelievable moves with this exciting new skill toy:  A perfect new challenge for Kendama and Yo-Yo players!
Buy Now
See the Skill Set in action